Birmingham Birthdays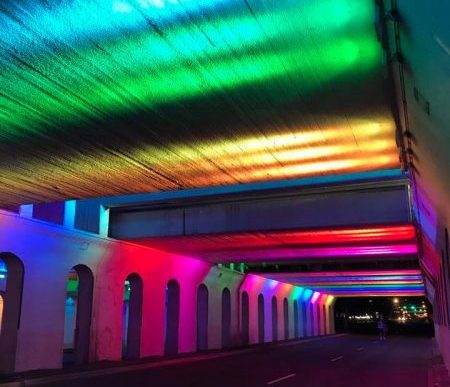 In the spirit of vulnerability, I have a confession: I underestimated how cool Birmingham is. Both my momma's and her best friend's birthdays are in April, so when the idea was brought up to celebrate with a girls trip, naturally I was all for it. With them being in Florida and us being in Tennessee, we looked for a place that was in the middle and perfect for a long weekend. As the planner for the trip, I got to dive into the depths of Google, Pinterest, and blogs galore to find the coolest eats and treats around Birmingham. I ended up finding more things to eat and do than we had time for!
While there, we stayed at the gorgeous Tutwiler Hotel, full of old charm and attentive service. Apparently, we weren't the only ones who loved it, as there were at least three weddings and two proms that took place that weekend.
Upon arriving in Birmingham Friday, we stopped at MELT for a late lunch, and loved their take on a classic grilled cheese! While there was a bit of a wait, the girls loved the cornhole set and hula hoops set out for anyone to enjoy.
After dropping off our bags and drooling at the architecture of the Tutwiler, we crossed the street to Linn Park, where they were having an arts festival. We roamed around the booths, even buying a few unique items, while trying to keep our Steel City Pops from dripping, to no avail. I highly recommend the Strawberry Lemonade, if you ever have one-- you can tell how fresh the fruit is!
For dinner Friday night, we headed to a hole-in-the-wall pizza place called Davenport's, with vintage arcade games lining the wall. We played mothers against daughters, and came out with a near-tie. After dinner, we went shopping, because, of course, and then finished out the night with ice cream.
Saturday, we started off with a stroll around Pepper Place Market, where they had fresh-picked strawberries and a cute coffeehouse called the Red Cat. We bought two baskets of berries, and wandered around, while eating them and caffeinating.
After we were awake, we headed up the hill to the Vulcan Museum, where the tallest cast iron statue stands on top of a 50-something foot tower. Because so much of Birmingham's history is tied to the iron and metal industry, the statue holds a dear place in Birmingham's heart. We rode the elevator up, and got to see the iron man's daily view of the city.
Because I got to plan the activities, OF COURSE I included a bookstore, Reed's Books. Luckily, all of my girls love reading too, so they loved it almost as much as I did. It was my favorite type of bookstore" a hole-in-the-wall, odds-and-ends, secondhand mish-mash of all genres, complete with an eccentric owner who collected old postage stamps.
Saturday night was met with a walk to John's City Diner, a photo session in front of a famous local mural, and a walk to the Color Tunnel, an awesome project did to revitalize a dark underpass. Of course, it makes for pretty pictures too.
Sunday morning, we rolled out of bed, packed our bags, and headed to Over Easy, because we all strongly believe in breakfast. After stuffing our bellies, we parted ways with full hearts, promises to get together soon, and a tug to come back to Birmingham.